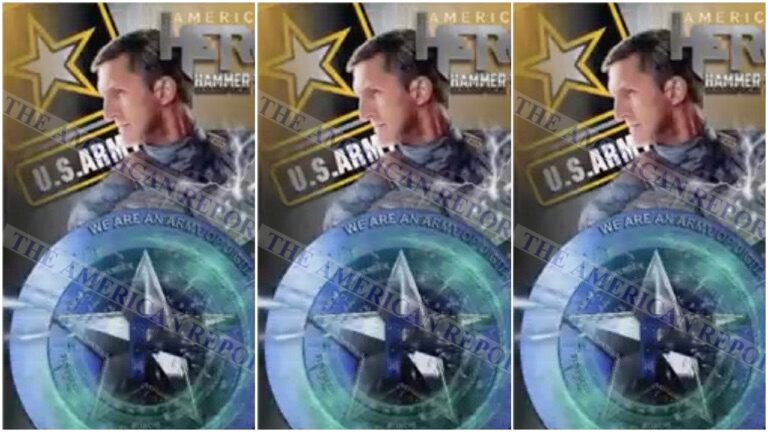 Reading Time:
5
minutes
By Alan Jones and Mary Fanning | September 30, 2019
Obama administration officials John Brennan and James Clapper repurposed the foreign surveillance system "THE HAMMER" to illegally wiretap General Michael Flynn. That evidence was contained on 47 computer hard drives and in sworn testimony provided to the FBI and to Assistant U.S. Attorney Deborah Curtis by Dennis Montgomery, the CIA contractor-turned whistleblower who designed and built "THE HAMMER," according to Montgomery.
The Obama administration also used the privatized, illegal, domestic super surveillance system "THE HAMMER" to illegally wiretap Paul Manafort, Rick Gates, Roger Stone, 156 Article III judges, Supreme Court justices, FISA court judges, Members of Congress, business leaders, Wall Street executives, and Donald Trump, according to Montgomery.
"There was a wiretap on Trump" for years, according to Montgomery.
Montgomery provided information on "THE HAMMER" to Curtis, FBI General Counsel James Baker, FBI Director James Comey, and FBI Special Agents Walter Giardina and William Barnett.
Montgomery turned over the hard drives to the FBI Miami Field Office on August 19, 2015, and provided sworn testimony during classified debriefings inside a Sensitive Compartmented Information Facility (SCIF) at the FBI Washington Field Office on December 3, 2015. The FBI videotaped Montgomery as he was debriefed under oath by Curtis, Giardina, and Barnett.
In February 2009, at the start of President Obama's eight years in office, John Brennan and James Clapper commandeered "THE HAMMER," the foreign super surveillance system Montgomery had designed and built, turning it into a far more powerful, illegal domestic surveillance system according to Montgomery. Brennan and Clapper relocated "THE HAMMER" to Fort Washington, Maryland, a mere hop, skip, and a jump from the Obama White House.
FBI Director Robert Mueller provided the computers for "THE HAMMER" Montgomery says. After Montgomery turned over the 47 hard drives to the FBI, FBI Director James Comey buried Montgomery's whistleblower case and the 47 hard drives of evidence. It is not clear if Comey is guilty of spoliation of evidence or exactly what he did with the 47 hard drives that the FBI received from Montgomery under an immunity agreement.
"THE HAMMER" turned America into an Orwellian, Soviet-style police state where Americans' Fourth Amendment Rights were negated.
The Obama administration's political enemies had been under attack with the weaponization of the IRS and more.
Not only did President Obama's cohorts Brennan and Clapper use "THE HAMMER" to illegally wiretap Trump, but they also collected surveillance data on individuals who years later would work with the Trump campaign, the Trump transition team, and the Trump administration.
According to Montgomery, Brennan and Clapper were using domestic surveillance data illegally harvested by "THE HAMMER" for "blackmail" and "leverage."
General Michael Flynn, who left the Defense Intelligence Agency in 2014 and later became President Trump's national security advisor, was, according to Montgomery, targeted by "THE HAMMER."
In other words, the Obama administration was illegally spying on Flynn.
U.S. Attorney Deborah Curtis was well aware of that information.
Deborah Curtis, as lead counsel, while having taken possession of illegally-harvested materials on General Flynn, Paul Manafort, and Rick Gates, was violating the "Fruit Of The Poisonous Tree" doctrine, and had a clear conflict of interest. Curtis was also withholding documents, which is a clear Brady violation.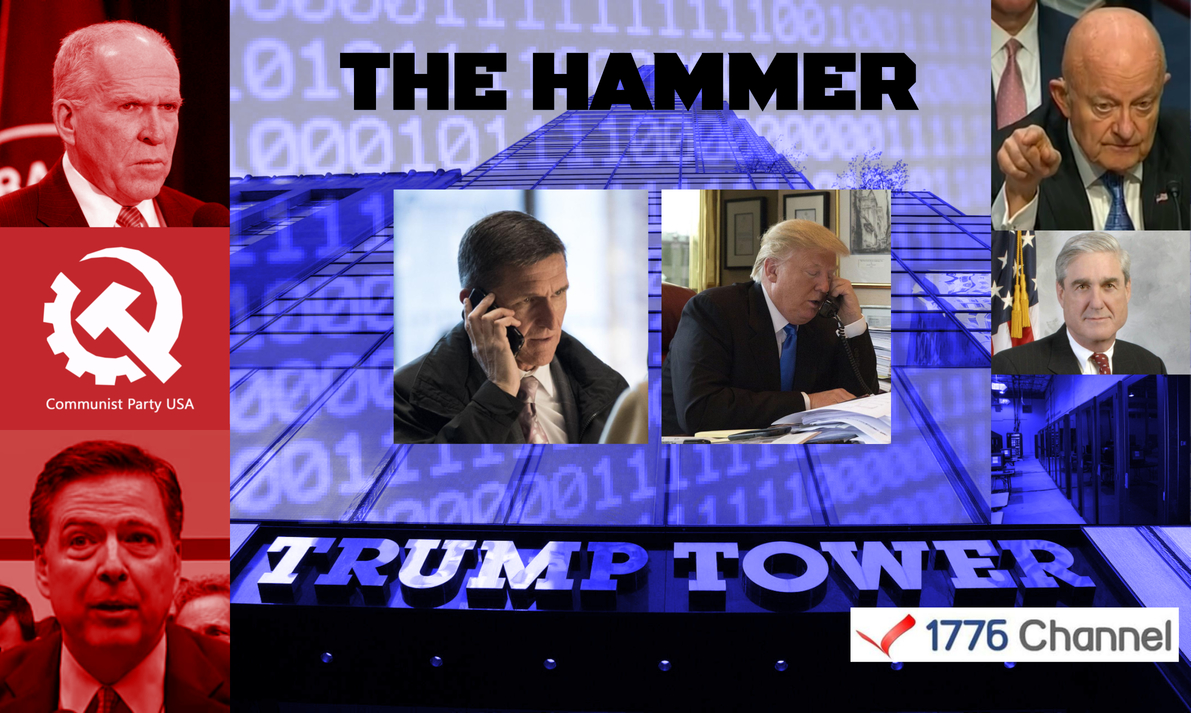 Over a year before President Trump won the 2016 election, senior FBI and DOJ officials received evidence and testimony from Montgomery about "THE HAMMER" and specific information about the targets of that surveillance, Montgomery says — including evidence that Flynn, Manafort, Gates, and others had been illegally spied on by Brennan and Clapper.
Assistant U.S. Attorney Deborah Curtis Received Evidence Obama Administration Spied On General Flynn, Says Montgomery; Curtis Then Led Prosecution Of Flynn Before Leaving DOJ On September 27, 2019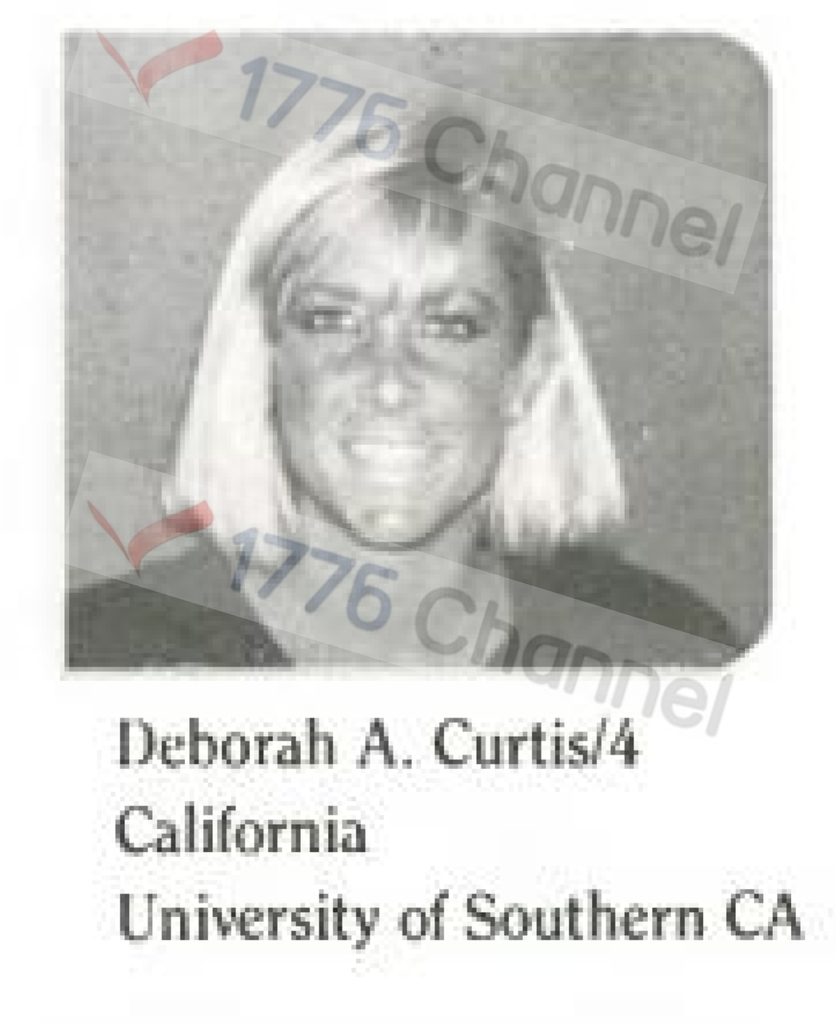 In 2015, Assistant U.S. Attorney Deborah Curtis, FBI General Counsel James Baker, and FBI Director James Comey received that classified information under two immunity agreements that Curtis granted to Montgomery in exchange for 47 computer hard drives and Montgomery's sworn testimony. Montgomery says that Curtis and the FBI buried that evidence.
General Flynn recently retained a new attorney, Sidney Powell, whose strategy centers on exposing that the DOJ hid exculpatory evidence from her client. For example, the DOJ has continued to refuse to release unredacted text messages between Peter Strzok and Lisa Page to Flynn's defense team.
Strzok and Page have their own connections to the Montgomery case and "THE HAMMER" — the pair exchanged a text message specifically mentioning Dennis Montgomery on March 19, 2017, following a live radio interview earlier that evening during which Air Force Lt. Gen. Thomas McInerny (Ret.) and Navy Admiral James A. "Ace" Lyons took the American Report's exposé on Montgomery and "THE HAMMER" to America's airwaves. The following morning, Director Comey lied to Congress by saying that the FBI had no evidence that the Obama administration wiretapped Trump, and, the same morning, launched the FBI's hoax Trump Russian collusion investigation.
Until this past weekend, Deborah Curtis was running the DOJ's prosecution of Flynn. This was a huge conflict of interest. Curtis had access to Montgomery's data and his classified testimony. Flynn's prosecution was never advised that whistleblower Montgomery had presented evidence to the FBI that, according to Montgomery, proves that the Obama administration illegally spied on Flynn.
Two FBI special agents, Walter Giardina, and William Barnett, who were also involved in debriefing Montgomery, are both connected to General Flynn's case.
That Curtis, Giardina, and Barnett were also all involved in Montgomery's whistleblower case before being assigned to Robert Mueller's hoax Trump Russian Collusion investigation is also a conflict of interest.
DOJ Prosecutor Zainab Ahmad And Andrew Weissmann Worked with Bruce Ohr's Back Channel Between Christopher Steele, Fusion GPS, and FBI Before Joining Mueller's Special Counsel Team With Deborah Curtis; Ahmad And Curtis Were Assigned To Flynn Prosecution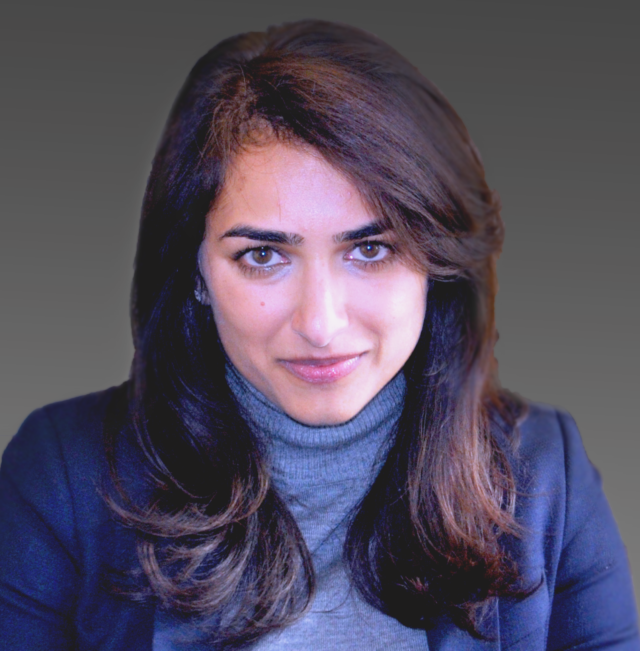 Another DOJ prosecutor who was previously assigned to the Flynn Case, Zainab Ahmad, was also part of Mueller's Special Counsel team, despite the fact that she had been in touch with Bruce Ohr and part of the secret back channel that passed information from Christopher Steele and Nellie Ohr of Fusion GPS and the CIA to FBI officials.
In the spring of 2016, Ahmad was granted a leave of absence from the Criminal Division of the U.S. Attorney's Office for the Eastern District of New York to work for Attorney General Loretta Lynch. Ahmad's leave of absence continued through April 2017. During Ahmad's tenure under Lynch, Lynch on January 3, 2017, changed the rules for intelligence sharing, allowing the FBI, CIA, and DEA to access raw NSA surveillance data.
Attorney Powell tweeted The American Report's article on Friday afternoon that connected Curtis's lead role in General Flynn's prosecution to the receipt of Dennis Montgomery's handover of 47 hard drives of evidence that, according to Montgomery, included illegally harvested information on General Flynn. Curtis suddenly left the DOJ this past weekend. There is no evidence that the two events are connected.
Ahmad left the DOJ earlier this year.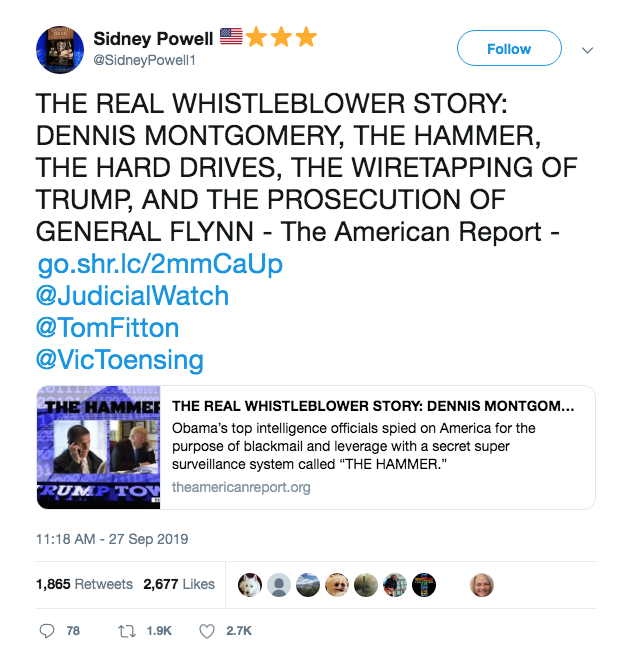 This scandal covering up Curtis's involvement in burying the FBI's whistleblower investigation of THE HAMMER is a case of massive prosecutorial misconduct, that is grounds for General Michael Flynn's case to be dismissed. Other cases could be dismissed as well.
COPYRIGHT 2019 MARY FANNING AND ALAN JONES
Facebook Comments
comments