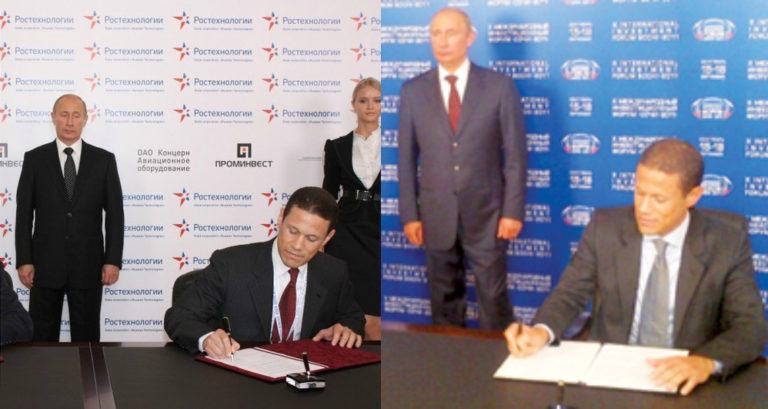 Reading Time:
9
minutes
By Alan Jones and Mary Fanning | April 11, 2018
On Friday, April 6, 2018, the Board of Directors of Delaware's Diamond State Port Corporation voted unanimously to transfer control of the Port of Wilmington, Delaware, a major strategic U.S. port, to UAE-based GULFTAINER through a $580 million 50-year lease.
Twelve years ago the UAE's Dubai Ports World pulled out of a deal to take over operations at six U.S. ports amid congressional investigations and intense public scrutiny.
"China and the United Arab Emirates are jealously guarding their own trading hubs and snapping up ports across the world" wrote the Daily Mail after Britain sold her last port to foreign investors.
Gulftainer's Shadowy Backstory and Why It Matters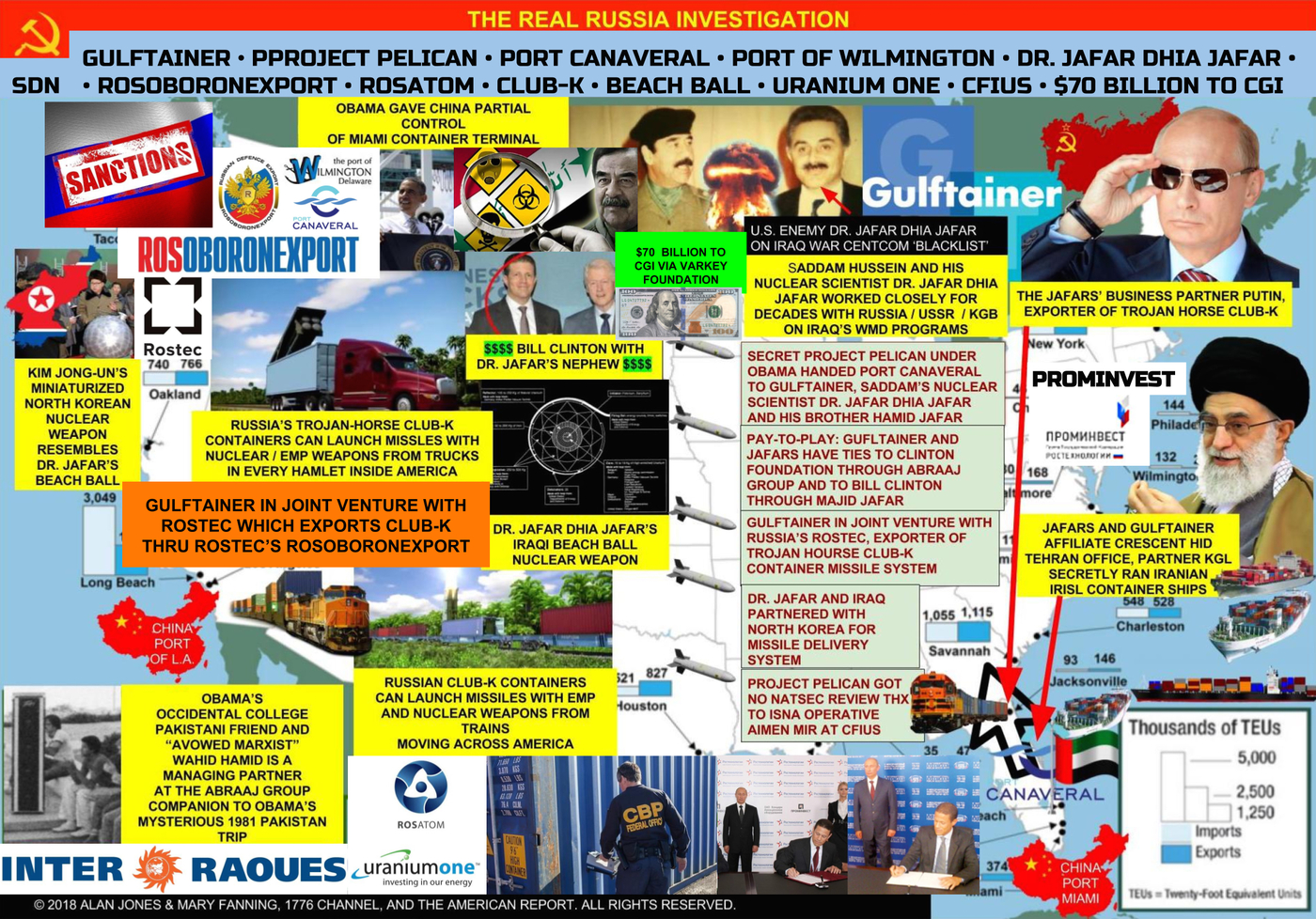 The Port of Wilmington deal with GULFTAINER is the second transfer of a major U.S port operation to GULFTAINER in the past four years.
In 2014, under the Obama administration, Florida's Port Canaveral handed GULFTAINER the port's cargo container operations in a secretly-negotiated deal code-named "Project Pelican."
GULFTAINER executive Badr Jafar visited the Obama White House on March 27, 2014, three weeks before the secret "Project Pelican" Port Canaveral deal was announced and signed.
GULFTAINER is co-owned by the Emir of Sharjah, UAE and Iraqi oil magnate Hamid Jafar.
The notorious Jafar family of Iraq has a long and storied history of involvement with Saddam Hussein's nuclear weapons program and other Iraqi WMD programs.
GULFTAINER and the Jafar family also have a history of involvement with Russia, with sanctioned persons, and with sanctioned business entities on the Treasury Department's Specially Designated Nationals (SDN) list.
The involvement of the Jafars with WMDs and GULFTAINER and the Jafars with SDNs such as "Russia's Darth Vader" Igor Sechin and Russia's ROSTEC, the parent company of sanctioned weapons exporter ROSOBORONEXPORT, should preclude GULFTAINER and the Jafars from operating any port business inside the United States, and particularly from having any involvement with America's critical infrastructure.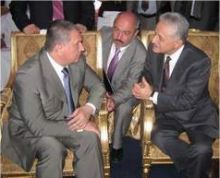 Trump Slaps Russia's ROSOBORONEXPORT with Sanctions, Exposing GULFTAINER and the Jafars to Scrutiny
On the same day Diamond State Port Corporations' Board approved GULFTAINER's Port of Wilmington lease, President Donald J. Trump imposed sanctions on Russian weapons exporter ROSOBORONEXPORT.
Earlier that day, Peter Richards, CEO of GULFTAINER U.S. subsidiary GT USA,  publicly assured Delawareans that GULFTAINER has no connections to Russia.
Peter Richard's denial on behalf of GULFTAINER flies in the face of a mountain of meticulously-compiled evidence documenting GULFTAINER's extensive business dealings with Russian state-owned enterprises.
"The George W. Bush administration had slapped sanctions on ROSONBORONEXPORT in 2006 amid allegations that the Russian government-owned company was aiding Iran's nuclear program, but they were lifted four years later by the Obama administration as it 'reset' relations with Moscow" the Washington Times reported.
Diamond State Port Corporation's public board meeting (VIDEO), held at Wilmington's Chase Center on the Riverfront, included a GULFTAINER presentation made by Richards before local International Longshoremen's Association union members and other attendees.
According to an April 6 Delaware Business Times report:
Richards ended his presentation by addressing concerns about GULFTAINER's corporate base in the United Arab Emirates. "I object to people lying about us," he said. "I can't believe people can be so simple-minded to believe the trash out there."

GULFTAINER has been vetted through a nine-month screening process by seven federal Cabinet departments and a dozen federal agencies. The corporation is not, Richards insisted, involved in terrorism, dirty money or Russia.
That is not what the facts show. The mandated Committee on Foreign Investment in the United States (CFIUS) National Security Threat Analysis for the GULFTAINER-Port Canaveral deal was entirely bypassed by the Obama administration.
Furthermore, it appears that Richards plans to weaken port security by hiring workers with criminal backgrounds.
Background checks: Richards and GULFTAINER want "to find a way around that" and hire port workers with criminal backgrounds — with help from Delaware's secretary of state.
What could possibly go wrong?
Iraqi WMD and Russian government-linked GULFTAINER and Peter Richards want to hire workers with criminal backgrounds with help from Delaware Secretary of State Jeff Bullock, a Democrat.
NPR member station Delaware Public Media reported:
GULFTAINER [GT USA] CEO Peter Richards said port workers must pass a federal security check to access some areas, but adds he's working with Delaware's Secretary of State Jeff Bullock to hire people with criminal backgrounds.

"I'm working with Secretary Bullock there to try to find a way around that," he said. "We always believe in giving people a second chance and if there's a way that they can do it legally and through the legislation, then we're all for it, we really are."
"GULFTAINER's operation at the Port of Wilmington would be made up of exclusively union workers from the International Longshoreman's Association" Delaware's National Public Radio affiliate reports. GULFTAINER, it would appear, hopes to hire International Longshoreman's Association union workers with criminal records.
Beyond Bin Laden: GULFTAINER's Iraqi Jafar Family, Saddam, and Terrorism
In 1990 the U.S. government designated Iraq, under Saddam Hussein's regime, as a State Sponsor of International Terrorism. Iraq was one of only seven countries classified as such.
At the same time Iraq rejoined the U.S. terrorism list, GULFTAINER's Iraqi co-owner Hamid Jafar was plotting to fund Saddam's and his brother's WMD programs through a scheme known as "Oil for Superweapons."  Meanwhile, his brother, Dr. Jafar Dhia Jafar, was racing to perfect his miniaturized nuclear weapon known as "Beach Ball."
Hamid Jafar has a history with WMD. He conspired with Saddam's superweapons czar Lt. Gen. Dr. Amir al-Saadi, the Seven of Diamonds in the Iraq Most-wanted playing cards deck, in their "Oil-For-Superweapons" scheme. The plan was to fund Saddam's nuclear, biological, and chemical weapons programs. The devious operation was investigated by the U.S. Treasury Department and three Congressional committees (Foreign Relations, Banking, and Ways and Means).
The Iraqi nuclear WMD program was masterminded by Hamid's brother and business partner, nuclear physicist Dr. Jafar Dhia Jafar.
Dr. Jafar was also the architect of Saddam's uranium enrichment programs.
Serving as Saddam's Deputy Defense Minister, Dr. Jafar also oversaw procurement and technology transfer for Saddam's biological and chemical WMD programs according to CIA documents.
UN weapons inspector David Kay questioned Dr. Jafar. Dr. Jafar "was in many ways appropriately described as the father of the Iraq nuclear program" Kay told the BBC.  He was well regarded by Saddam and his sons [Uday and Qusay]."
According to accounts by Western officials who interrogated Dr. Jafar, the Iraqi nuclear scientist was uncooperative. Yet as Dr. Jafar remained quiet, he started drawing, for hours. What Jafar drew were detailed diagrams of Dr. J. Robert Oppenheimer's nuclear weapons designs, entirely from memory, much to their amazement.
Dr. Jafar ominously told Kay "You can bomb our buildings. You can destroy our technology. But you cannot take it out of our heads. We now have the capability."
At the start of Operation Iraqi Freedom, US Central Command designated Dr. Jafar an enemy combatant and placed him on CENTCOM's BLACKLIST as a legitimate military target wanted for capture or kill.
Dr. Jafar, who spent time training in the Soviet Union during the 1980s, worked closely with Russia on his WMD programs. Russian KGB/SVR master spy and Ambassador to Iraq Yevgeny Primakov, a close associate of Saddam, provided technical support to Iraq's WMD programs and helped move Iraqi WMDs into Syria in 2003.
Dr. Jafar is a renowned expert on electromagnetic isotope separation (EMIS), a uranium enrichment technology developed during the Manhattan Project.
GULFTAINER's Russian Business Operations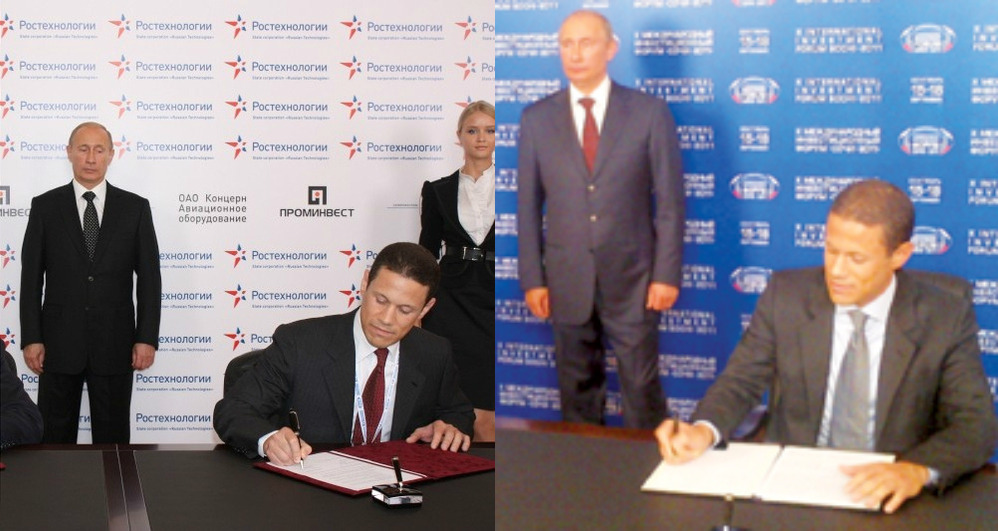 GULFTAINER announced two major Russian ports and logistics deals: a $500 million deal in 2010 followed by a $275 million deal in 2011.
On September 17, 2010 Gulftainer "signed a major joint venture agreement with Prominvest, the financial and investment arm of Russian State Corporation, Russian Technologies [ROSTEC]" a GULFTAINER press release announced.
"This is another major demonstration by the Crescent Group of its commitment to building strong economic ties with our Russian brothers" Badr Jafar said at the 2010 signing ceremony in Sochi attended by Putin.
GULFTAINER's joint venture with ROSTEC, called "Gulftainer Russian Technologies," covered infrastructure, ports, and logistics in the Russian Federation and former Soviet republics. Prime Minister Vladimir Putin looked on as Badr Jafar signed the agreement.
Like ROSOBORONEXPORT, ROSTEC and ROSTEC subsidiary Prominvest are SDNs under U.S. sanctions.
"Putin's favorite arms dealer" ROSOBORONEXPORT has been widely criticized for supplying weapons to rogue regimes including Iran and Syria. Senator John Cornyn (R-TX) called ROSOBORONEXPORT "an enabler of mass murder in Syria."
In 2010 the Obama administration lifted sanctions the Bush administration had enacted against ROSOBORONEXPORT.
Obama administration Secretary of Defense Leon Panetta was rebuked for a $1 billion no-bid order with ROSOBORONEXPORT to supply Afghan forces with helicopters. By awarding such a large weapons order with ROSOBORONEXPORT, Obama and Panetta transferred wealth to Russia and sponsored an arms dealer that is supplying weapons to Bashar al-Assad while he is known to be committing war crimes against Syrian civilians.
"Rosoboronexport is an arm of the Russian government and a powerful instrument of [Russian President] Vladimir Putin's increasingly belligerent foreign policy," stated a 2014 letter urging the U.S. to sever all ties to Rosoboronexport, signed by U.S. representatives, including Dan Coats (R-IN), the Washington Times reported. Coats is currently serving in the Trump administration as Director of National Intelligence, having replaced James R. Clapper.
The LinkedIn page of GULFTAINER's business partner PROMINVEST states that PROMINVEST, which is on the SDN list, was established to conduct currency clearing of weapons and defense sales transactions as a unit ROSOBORONEXPORT, which currently exports Russia's lethal Club-K Container Missile System.
LLC PROMINVEST (formerly, Oboronimpex) is a financial and investment arm of State Corporation "Russian Technologies" (formerly, Rosoboronexport). LLC PROMINVEST was established in 2001 for transactions in clearing currency for supplied defense production.
GULFTAINER, SDN ROSOBORONEXPORT, and the Club-K
Hutchison Whampoa operates the Freeport Container Port in the Bahamas, 65 miles from the United States. The Associated Press reported in 2006 that "In the aftermath of the Dubai ports dispute, the Bush administration is hiring a Hong Kong conglomerate to help detect nuclear materials inside cargo passing through the Bahamas to the United States and elsewhere." "Hutchison Whampoa is documented as being closely linked to the Chinese government" Newsmax said.
ROSOBORONEXPORT is a wholly-owned subsidiary of Russian state-owned weapons and technology conglomerate ROSTEC.
ROSTEC exports Russia's Trojan Horse Club-K Container Missile System through ROSOBORONEXPORT.
The Club-K can launch Russian Kalibr cruise missiles tipped with nuclear, electromagnetic pulse (EMP), biological, chemical, or conventional payloads.
Once smuggled through U.S. ports of entry, Club-K units can be moved undetected aboard semi-trucks, rail cars, ships, and riverine boats to every hamlet in America.
The Club-K can be activated remotely via satellite and has a reported shelf life of ten years.
In Peter Richards' own words:  GULFTAINER and Russia
According to Peter Richards' biography, "During his tenure Peter has expanded GULFTAINER's global footprint into Europe, Russia and the South Americas."
World Maritime News reported on the signing of GULFTAINER's joint venture with Rostec, attended by, among others, GULFTAINER executives Peter Richards and Badr Jafar, alongside Russian Prime Minister Vladimir Putin:
Speaking at the signing ceremony, Peter Richards, Managing Director of Gulftainer Global Logistics Limited, noted: "This is a serious step for the Gulftainer Corporation as we realize that we are expanding to the most dynamic Russian region, the Baltic. Its role in the transit potential of Russia is critical, since it handles about 60% of the Russian container transportation, with the cargo volumes constantly growing. Still, the growth potential is far from being exhausted."
GULFTAINER's website quotes Richards expressing confidence in GULFTAINER's joint venture with Russian government-owned ROSTEC:
Gulftainer Managing Director Peter Richards commented "The investment potential in Russia and the CIS (Commonwealth of Independent States — former republics of the Soviet Union) is huge in Ports, related infrastructure and logistics. We are very confident that aligning our two organisations' proven track records and know-how will prove successful in meeting Russia's need for enhanced logistics operations , assisting Russian exporters and importers access to world markets."
Richards called others liars for stating GULFTAINER was in business with Russia.  His own words prove him to be duplicitous.
Alex Brummer warned in The Daily Mail:
The truth is that it takes centuries to build assets such as ports and other networks, and now it seems we have lost them for good.

As China expands into traditional UK colonial commercial hubs in Sri Lanka and Nigeria, all we can do is look on with bitter regret that we no longer have any control over those regions and the valuable shipping lanes that connect them.

Other countries, including Germany and France, recognised long ago that certain key national assets such as power and transport hubs are strategic and important for a nation's long-term growth, and have made great efforts to protect them.
Unless the Delaware General Assembly can be convinced that national security is more important than the $580 million the Arabs are offering, GULFTAINER is set to receive a 50 year lease to the Port of Wilmington.
After that, the only chance of halting the deal is through the Trump administration.
Copyright 2018 Mary Fanning and Alan Jones

ADDITIONAL READING:

Exclusive: THE REAL RUSSIA STORY – Port Canaveral "Project Pelican" and Uranium One deals connected through the Jafars – Big League Politics

https://bigleaguepolitics.com/exclusive-real-russia-story-port-canaveral-project-pelican-uranium-one-deals-connected-jafars/

Lifezette:  The Uranium One Deal is a Clear and Present Danger to America

https://www.lifezette.com/polizette/the-uranium-one-deal-is-a-clear-and-present-danger-to-america/

Center for Security Policy:
Middle East-owned "Gulftainer" bids for control of strategic port in US northeast

https://www.centerforsecuritypolicy.org/2018/03/26/middle-east-owned-gulftainer-bids-for-control-of-strategic-port-in-us-northeast/
Sweetheart Deal Handed Port Canaveral's Cargo Container Terminal to Family of Saddam Hussein's Nuclear Mastermind / Breitbart

http://www.breitbart.com/national-security/2016/11/04/saddam-hussein-port-canaveral/

WikiLeaks Email Ties Apparent Clinton Pay-To-Play to Port Canaveral Deal with Family of Saddam Hussein's Nuclear Mastermind | Breitbart

http://www.breitbart.com/national-security/2016/11/07/wikileaks-email-ties-apparent-clinton-pay-play-port-canaveral-deal-family-saddam-husseins-nuclear-mastermind/

Center for Security Policy: The Perfect Storm

https://www.centerforsecuritypolicy.org/2017/11/13/center-occasional-paper-exposes-a-perfect-storm-of-threat-port-canaveral-container-lease-tied-to-russian-club-k-missile-system/
Facebook Comments
comments