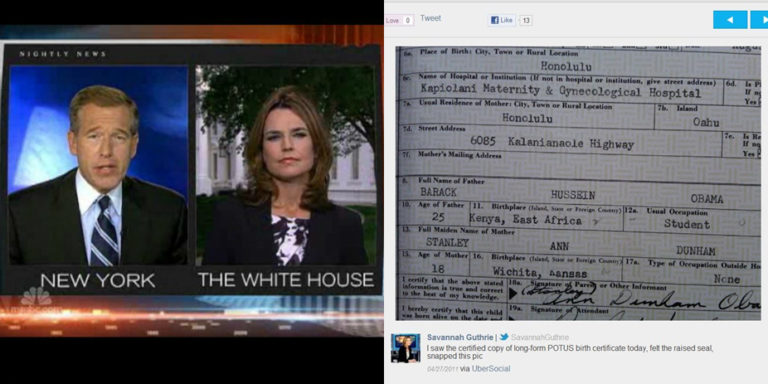 Reading Time:
4
minutes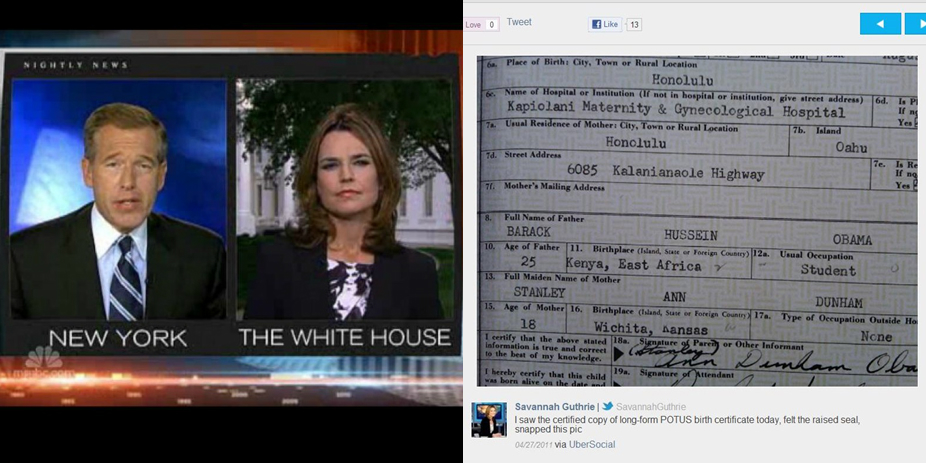 By Alan Jones | February 10, 2015
(1776 Channel) NBC White House correspondent Savannah Guthrie, the only journalist on the planet proclaiming to have seen a paper copy of Barack Obama's long-form Hawaii birth certificate and to have 'touched and felt the raised seal', has emerged as the top choice to replace embattled NBC News anchor Brian Williams, according to the Drudge Report.
Guthrie made that statement during the April 27, 2011 broadcast of NBC Nightly News with Brian Williams. The title of the segment is Obama birth certificate—signed, sealed, delivered (Click to watch video).
Guthrie also uploaded to social media website UberSocial two images she claims are photographs she took at the White House of a paper copy of President Obama's long-form Hawaii birth certificate.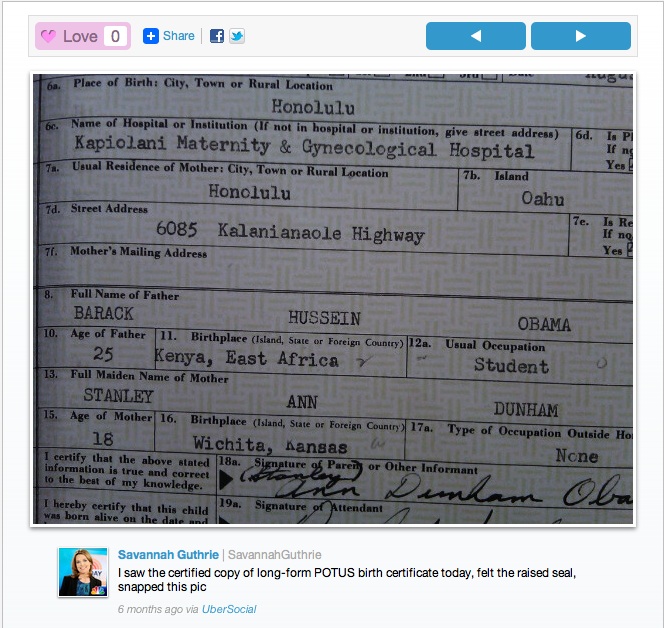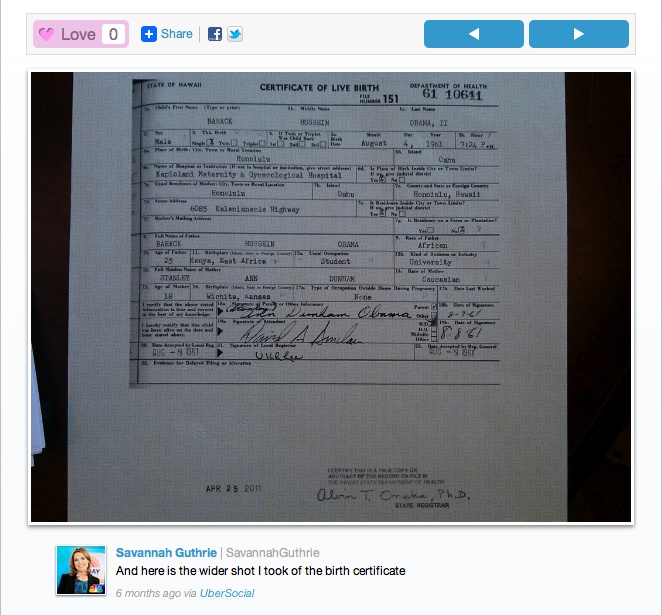 Guthrie's assurances to NBC News viewers and to the American public that the PDF document posted on the White House website is backed up by two certified paper copies delivered to the White House flies in the face of the digital forensic findings of Sheriff Joe Arpaio's 'Cold Case Posse' investigators in Maricopa County, Arizona.
If the 'Cold Case Posse' releases additional findings concerning the Obama birth certificate, a development that has been anticipated for nearly a year, NBC News would likely face a credibility crises far more severe than the Brian Williams fiasco.
Guthrie could also potentially face criminal conspiracy charges if it were determined by investigators that she knowingly presented a forged Hawaii state document to NBC viewers and informed them it was real, possibly for the purpose of protecting the Obama Administration.
Guthrie, Williams and NBC News risk becoming the poster children of the corporate media's utter failure to challenge the White House's claims to possess a legal birth document for President Obama, despite dubious statements by Hawaii officials, one of whom perished in a bizarre plane crash.
Reed Hayes, a document examiner who has served as expert witness for Seattle law firm Perkins Coie, the very same firm that flew an attorney from Honolulu to Washington D.C. to personally deliver two paper copies to the White House (allegedly examined by Guthrie), states that Obama's birth certificate is "entirely fabricated".
Cold Case Posse Lead Investigator Lt. Mike Zullo spoke with 1776 Channel in an exclusive interview today about the White House PDF scan and Savannah Guthrie's claims.
Reed Hayes has a distinguished background as a document examiner. He has done work in document examination for Perkins Coie. Mr. Reed has concluded that the image presented by the White House is "entirely fabricated".

We have no evidence of a raised seal being displayed on that document that Savannah Guthrie supposedly felt. We don't know what she felt. No evidence that we can determine shows alterations to that paper body indicating a raised seal. Their work flow is a scan of the document. Upon examination there is no evidence of raised seal. We have seen examples of other Hawaii documents with raised seals clearly displayed. According to former White House attorney Bob Bauer, Obama never even handled it, but Savannah Guthrie did. – Cold Case Posse Lead Investigator Lt. Mike Zullo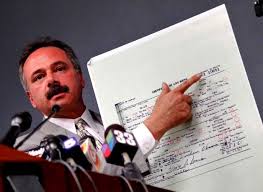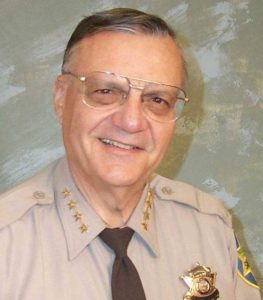 Reed has reportedly signed an affidavit for the Cold Case Posse. The Reed affidavit presents a legal conundrum for President Obama's attorneys and the White House. Robert Bauer was a partner at Perkins Coei before becoming White House Counsel.
"We have obtained an affidavit from a certified document analyzer, Reed Hayes, that states the document is a 100 percent forgery, no doubt about it" Zullo told World Tribune in 2013.
"Mr. Obama's operatives cannot discredit him…Mr. Hayes has been used as the firm's reliable expert. The very firm the President is using to defend him on the birth certificate case has used Mr. Hayes in their cases." Zullo told World Tribune. "In addition, Mr. Hayes is a Democrat whose business is based in Hawaii. He cannot easily be accused of having a political axe to grind in this matter" wrote World Tribune.
During a sit-down interview with Brian Williams, President Obama famously stated "I can't spend all my time with my birth certificate plastered on my forehead."
Savannah Guthrie recently interviewed President Obama in the White House Mess, where they sipped beer as part of NBC's Super Bowl XLIX pregame coverage. The following morning the NBC Today Show aired Guthrie's full length interview with President Obama.
Facebook Comments
comments