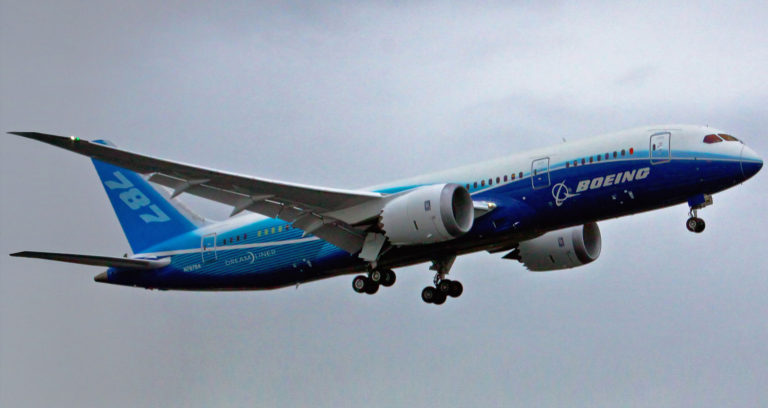 Reading Time:
2
minutes
(1776 CHANNEL) – February 17, 2017 – President Trump visited the Boeing 787 Dreamliner assembly plant in North Charleston, South Carolina on Friday.
Calling the Dreamliner "one beautiful airplane…an amazing piece of art" and "an amazing piece of work," the president appeared at home with a receptive crowd of Palmetto State Boeing workers who chanted "USA, USA, USA." During opening remarks reminiscent of his ongoing 'thank you' tour, President Trump  reminded the audience that he won South Carolina by a landslide last November.
"We are here today to celebrate American engineering and American manufacturing" the president told the crowd. "We are also here today to celebrate jobs."
American manufacturing jobs have been a key focus of President Trumps economic and trade policy platforms since the early days of his campaign.
"You have heard me say it before and I will say it again. From now on, it's going to be America first" reiterated the president. President Trump's 'America First' platform has rattled globalists around the world, including the leaders of Communist China.
Although many components of Boeing's 787 Dreamliner are manufactured abroad by subcontractors, final assembly of the fuel-efficient wide body aircraft takes place in Everett, Washington and North Charleston, South Carolina.
"Our goal as a nation must be to rely less on imports and more on products made here in the U.S.A., right here in the U.S.A." emphasized the president.
Boeing assembly plant near birthplace of aviation
"It's amazing to think that a little over 113 years ago, next door, in North Carolina, Orville Wright was the first man sail the skies in a very little airplane" remarked the president.
Kitty Hawk, North Carolina, which like North Charleston, sits along the southeastern U.S. Atlantic coast, was the location of the historic twelve second flight of the "Wright Flyer" airplane. The wood and cloth craft was built by the Wright Brothers of Ohio, and launched mankind's age of aviation.
"That flight was a testament to the American spirit" reflected President Trump.
President Trump takes a tour of Boeing 787 Dreamliner plant
President Trump took a tour of the Boeing South Carolina's assembly plant. He was accompanied by members of his staff, including daughter Ivanka and son-in-law Jared Kushner.
Facebook Comments
comments