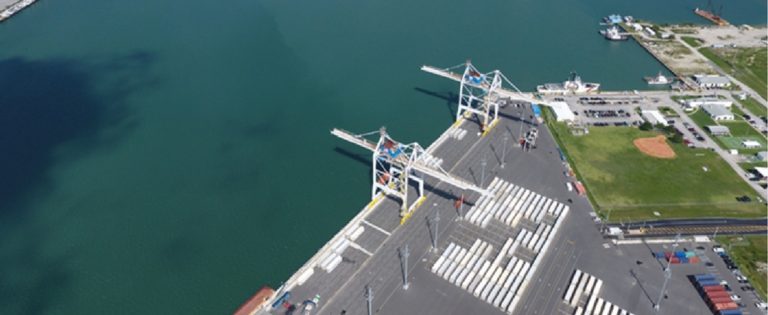 Reading Time:
3
minutes
The Abraaj Group, a UAE private equity company co-founded and partly-owned by the Iraqi family of Saddam Hussein's nuclear weapons mastermind, donated between $500,000 and $1 million to the Clinton Foundation and co-sponsored the 2012 Clinton Global Initiative annual meeting.  That same Iraqi family was awarded a 35-year container terminal lease at national-security nexus Port Canaveral, Florida through the family's ports company Gulftainer. The Port Canaveral lease received no national security review, despite the family's connection to Iraq's rogue WMD program.
Weeks before co-sponsoring the 2012 Clinton Global Initiative meeting, The Abraaj Group was awarded the first of hundreds of millions of dollars in loans and investment management contracts through the State Department's Overseas Private Investment Corporation (OPIC), a federal agency overseen by Secretary of State Hillary Clinton. Secretary Clinton previously exploited OPIC as a kickback vehicle to reward a now-convicted Clinton Foundation donor with lucrative loans in Haiti according to the Washington Free Beacon.  The Abraaj Group's sponsorship of the Clinton Global Initiative meeting coincided with Gulftainer's intial efforts to take over a Florida port.
Dr. Jafar Dhia Jafar, the infamous "father of Saddam's nuclear weapons program," and his brother Hamid Jafar are both executives at the Iraqi family's company Crescent. Hamid is the Chairman of the Crescent Group and Dr. Jafar is the CEO of Crescent's URUK Engineering and Construction, a builder of Iraqi electric power stations.
Crescent is a founding General Partner shareholder and a limited partner of the Abraaj Group. Crescent is also the owner of Gulftainer, the ports company awarded the Port Canaveral lease. Crescent Enterprises CEO Badr Jafar is a Gulftainer executive and also serves on the Abraaj Group board of directors.
Badr Jafar's brother Majid Jafar co-chairs the Dubai-based Business Backs Education campaign with former President Bill Clinton. The program is funded by the Varkey GEMS foundation, which paid Bill Clinton $5.6 million to serve as "Honorary Chairman."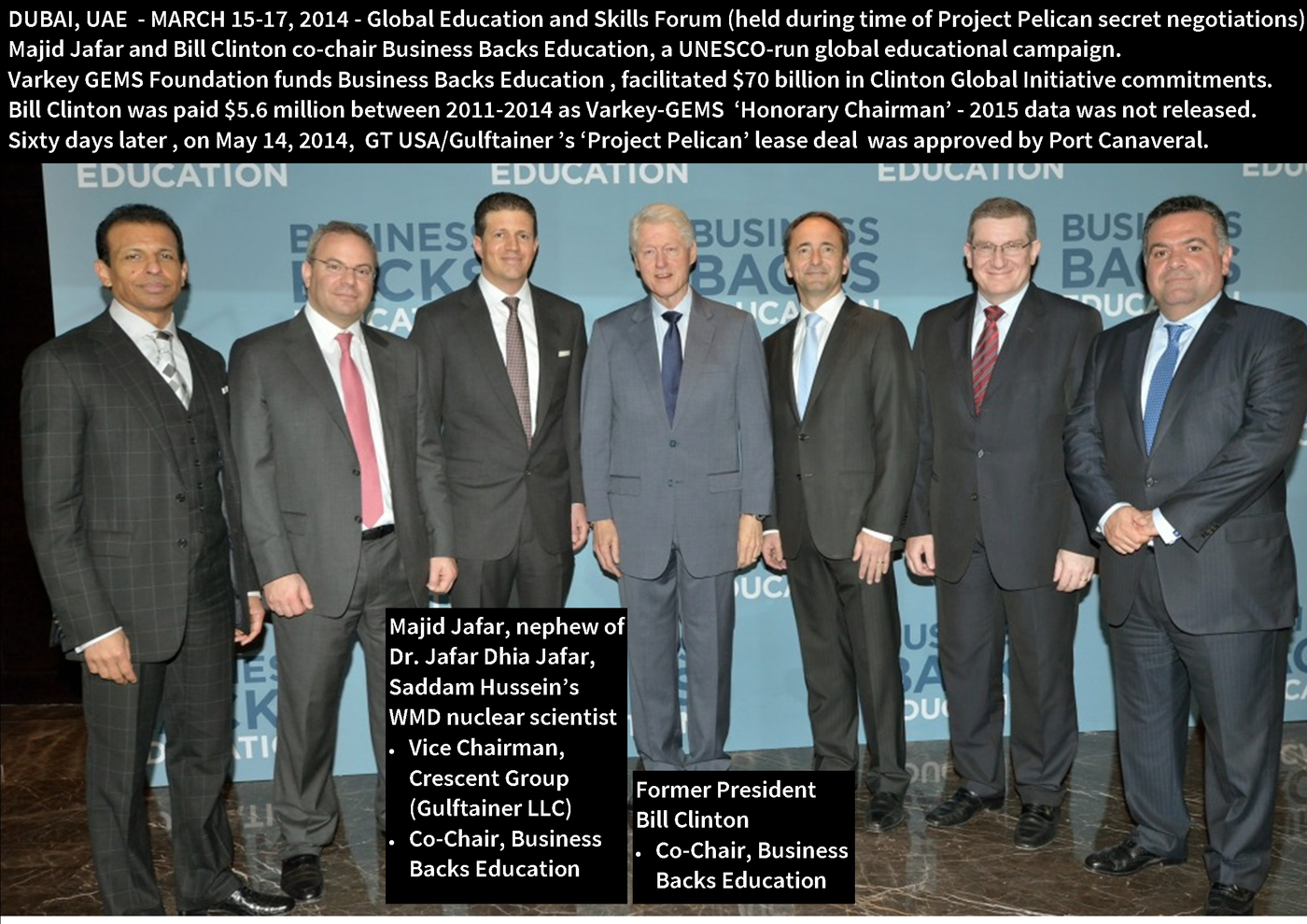 The idea that Secretary Hillary Clinton would facilitate a company deeply connected to Iraq's WMD program moving into a U.S. port is beyond astonishing. Port Canaveral is near NASA's Kennedy Space Center and is the second biggest cruise ship port in the world.
Homeland security experts say that America is vulnerable to nuclear terrorism at U.S. port cargo container terminals.  Treasury Secretary Jacob "Jack" Lew, a close friend and longtime political associate of the Clintons, shirked his duty to order a national security review of the Port Canaveral deal.   Crescent was investigated by the U.S. government as a front company for Saddam Hussein.
Official Crescent Enterprises documents and a statement by Crescent Enterprises CEO Badr Jafar confirm that Gulftainer and URUK Engineering and Construction, led by Iraqi nuclear bomb mastermind Dr. Jafar Dhia Jafar, are both subsidiaries of Crescent Enterprises.

Crescent Enterprises CEO Badr Jafar explained during an 2013 interview with Leaders Magazine that Gulftainer and URUK are both subsidiaries of Crescent Enterprises:
Looking at opportunities within Russia itself, the other main subsidiary of the Crescent Group, Crescent Enterprises, owns a company called Gulftainer, which today is the largest privately owned port operator in the world in terms of operated volumes. Gulftainer is looking to expand its geographic footprint by investing in Russia's underdeveloped Ports and Logistics sector, specifically the management of container terminals, logistics partnerships, and inland depots. Another one of Crescent Enterprises' subsidiaries, URUK Power, is active in the power sector and is looking at power opportunities alongside Inter RAO UES, one of Russia's largest energy companies. – Badr Jafar, CEO of Crescent Enterprises and President of Crescent Petroleum – Leaders Magazine interview – October 4, 2013
Crescent Group Chairman Hamid Dhia Jafar's official corporate biography states that:
Through Crescent Enterprises Mr. Jafar also has a variety of commercial interests including container shipping, port logistics, real estate, power generation and private equity. He is the chairman of Gulftainer Ltd, a specialist in container terminal operations which manages Sharjah, Jubail and Umm Qasr Ports, a founding shareholder of the URUK Group engaged in the Iraqi electrical contracting sector and a founding sharehoder of Abraaj Capital, the Middle East's largest private equity firm. – Hamid Jafar official biography, Crescent Group
America's infrastructure and national security are for sale, with head cashier Hillary Clinton running the Clintons' pay-to-play scheme.
Facebook Comments
comments