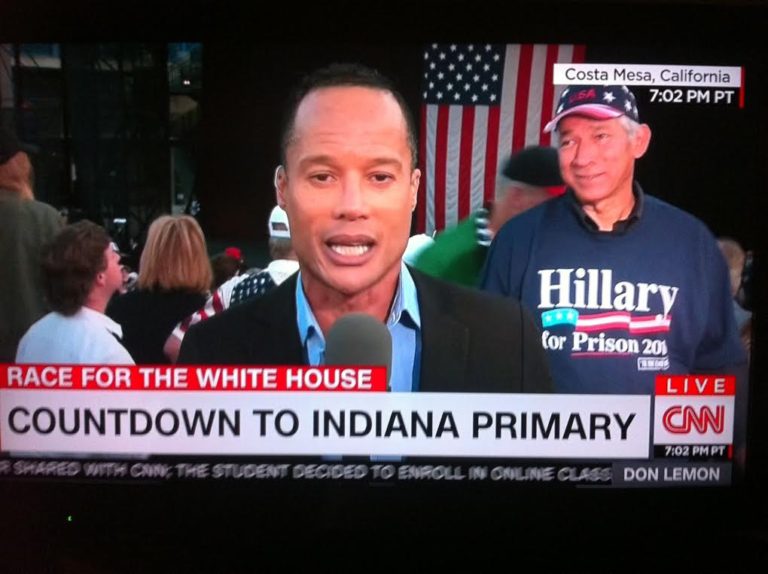 Reading Time:
2
minutes
By Alan Jones | April 29, 2016
CNN aired live video of a Donald Trump supporter wearing a 'Hillary for Prison 2016' T-shirt for approximately seventeen seconds during a Trump campaign rally last night in Costa Mesa, CA.
The 'videobomb' happened during the third minute of CNN's 'Don Lemon Tonight' program.
CNN reporter Jason Carroll, apparently unaware that a Trump fan donning the satirical Hillary Clinton campaign T-shirt had stepped into the network's video frame, continued to report as the incident unfolded.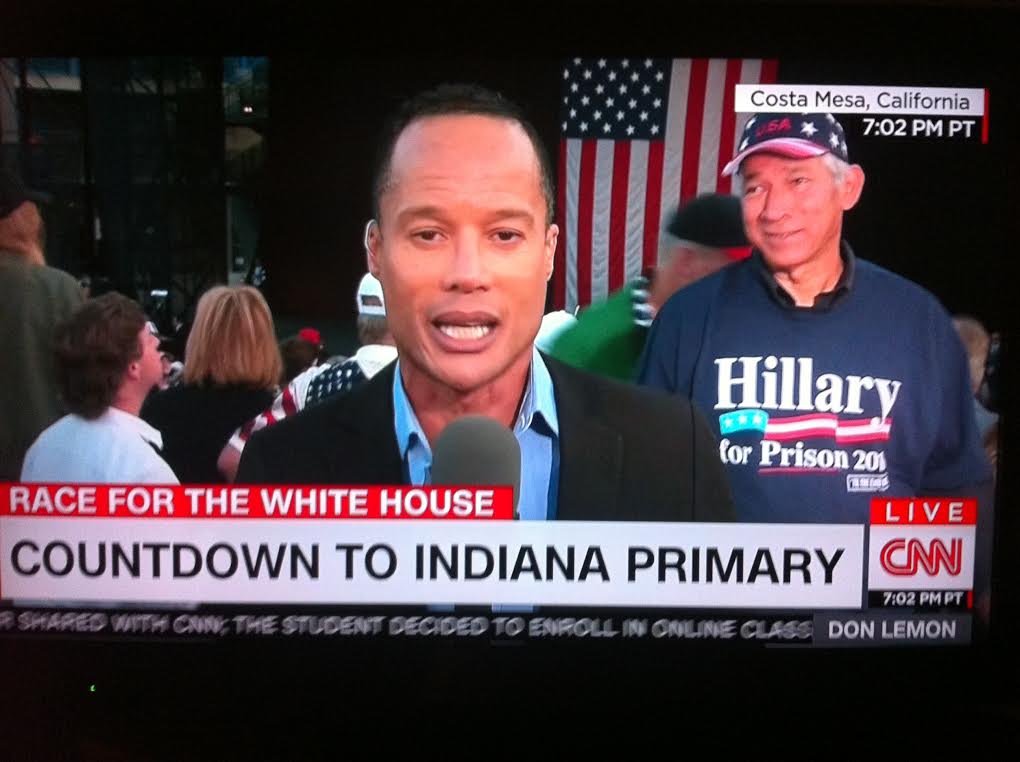 Trump supporters can be heard cheering as the relaxed and grinning man boldly models the latest anti-Hillary Clinton apparel. He appears to make the most of his air time in front of CNN's camera, stretching out his arms and shaking his head in apparent disapproval of Hillary's attempt to win back the White House while ensnared in an ongoing FBI criminal investigation.
Trump campaign rally ticket: Free
'Hillary for Prison 2016 T-shirt: $19.95
Videobombing CNN: Priceless
The optics of a 'Hillary for Prison' T-shirt beaming into American living rooms are not helpful to the Clinton campaign, which is desperate to keep the FBI's massive investigation of Hillary off the minds of voters.
Former Secretary of State Hillary Clinton's tens of thousands of deleted emails and her illegal private server are the subject of a continuing FBI investigation. The scandal has been referred to as a State Department cover-up.
As many as 150 FBI agents are investigating possible corruption within the Clinton Foundation, according to a former U.S. attorney who spoke to the the Washington Examiner in January.
The State Department "withheld a key Benghazi email of former Secretary of State Hillary Clinton from Judicial Watch since at least September 2014" according to a new Judicial Watch press release.
Donald Trump has begun to refer to Secretary Clinton as 'Crooked Hillary.'
The non-profit Internet Archive also captured video of CNN's 'Hillary for Prison' incident. The video clip is available today on their website Archive.org.
The T-shirt appears to be identical to one designed and sold by Infowars.com.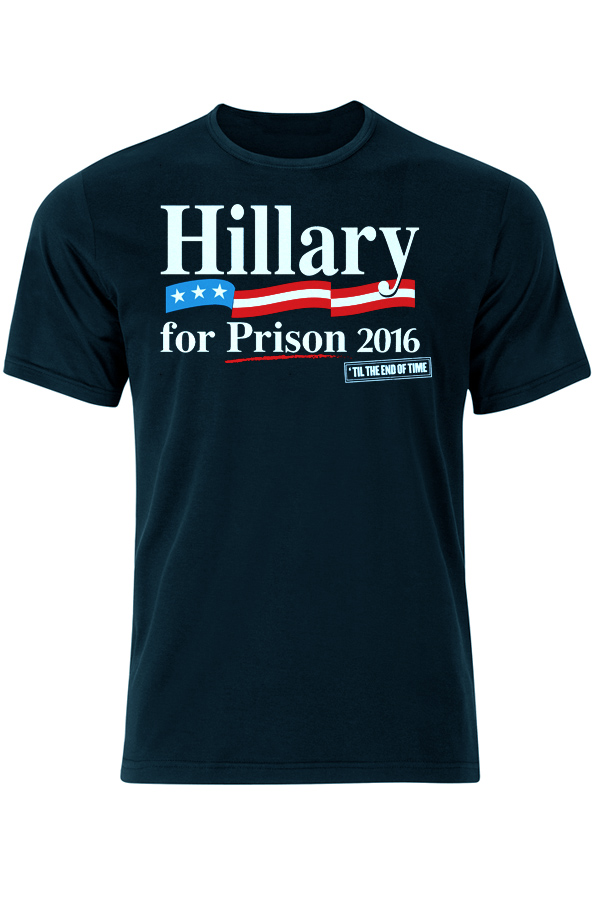 As the 'Hillary for Prison 2016' meme has caught on, more than a dozen variations on the original T-shirt design have become available online.
'Hillary for Prison 2016' has become a virtual cottage industry, and now it's had its first close-up, courtesy of CNN.
Facebook Comments
comments