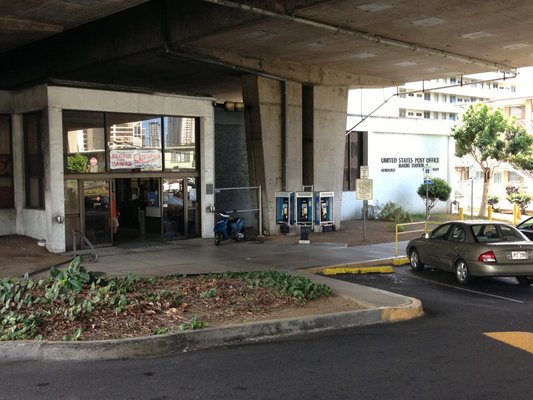 Reading Time:
10
minutes
Accounts by Obama 2008 campaign conflict with those of former Obama college roommate and current U.S. Ambassador to Belize Vinai Thummalapally
By Alan Jones | June 13, 2015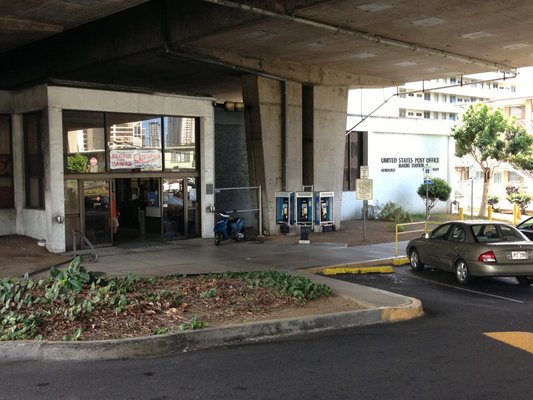 STORY UPDATE JUNE 15, 2015: Barack Obama's 2008 presidential campaign manager Bill Burton claims that Obama visited Hyderabad, India, according to a November 3, 2008 report by CNS News and an April 10, 2008 report by the New York Times.
Obama had visited Pakistan for "about three weeks" in 1981, after visiting his mother in Indonesia. He had traveled with a college friend whose family lived in Karachi. He had also visited Hyderabad in India, Burton said. – CNS News, November 3, 2008
According to his campaign staff, Mr. Obama visited Pakistan in 1981, on the way back from Indonesia, where his mother and half-sister, Maya Soetoro-Ng, were living. He spent "about three weeks" there, Mr. Obama's press secretary, Bill Burton, said, staying in Karachi with the family of a college friend, Mohammed Hasan Chandoo, but also traveling to Hyderabad, in India. – New York Times, April 10, 2008
It remains unclear if Obama actually visited Hyderabad, India, as reported by the New York Times, or instead possibly visited Hyderabad, Pakistan. Obama campaign officials have on multiple occasions made inaccurate statements to reporters about Barack Obama's early years.
(1776 Channel) Close examination of the timeline of Barack Obama's life while he was enrolled as a student at Occidental College in southern California has revealed what appear to be conflicting accounts of the future President's whereabouts during the summer of 1980.
Barack Obama attended Occidental College during the 1979-1980 and 1980-1981 academic years.
During 1980 summer recess from the private liberal arts college, nestled in the Eagle Rock neighborhood of northeast Los Angeles, eighteen year old Barack Obama allegedly reported to United States Post Office Makiki Station in Honolulu, Hawaii on July 29, 1980 and registered for selective service.
The alleged date and location of President Obama's draft registration are recorded on a copy of Obama's "SSS Form 1" registration card, released in 2008 by the Selective Service System to retired ICE Agent Stephen Coffman, under the Freedom of Information Act.
The Maricopa County Sheriff's Office (ARIZ) Cold Case Posse now maintains that the copy sent to Mr. Coffman is a forgery, investigators announced during a March 1, 2012 press conference in Phoenix.
A spokesperson from Immigration and Customs Enforcement, an agency of the U.S. Department of Homeland Security, confirmed to Communities @WashingtonTimes.com that Stephen Coffman retired from ICE in June, 2007.
During the run-up to his election, The Obama 2008 campaign responded to a Chicago Sun-Times reporter's inquiries about then Senator Obama's job history during his school years, and the financing of his college education. According to a July 20th, 2008 Sun-Times article, the campaign "passed on" details indicating that Obama returned home to Hawaii following his freshman year at Occidental, spending the summer of 1980 in Honolulu, where he worked at least two jobs during his stay.
The timeline provide by the Obama 2008 Campaign is not, however, the only on-the-record account of Obama's whereabouts during the summer of 1980.
A former California State University post-graduate business student from Hyderabad, India, along with his future wife, the former Barbara Nichols-Roy, an Occidental undergraduate student also from India, met the future President when the three students where at the Occidental College library in late 1979 or early 1980.
The former CSU student, named Vinai K. Thummalapally, eventually naturalized as a U.S. citizen, became a prolific Obama campaign bundler, and was in 2009 appointed U.S. Ambassador to the small Central American nation of Belize. Thummalapally is the first Indian-American to be awarded a U.S. State Department Ambassador post.
Ambassador Vinai K. Thummalapally reportedly has stated that he was roommates with Obama during the summer of 1980. According to a 2008 Associated Press report published several months prior to the Sun-Times's chronicle of Obama's Hawaii summer jobs, Thummalapally "lived with Obama the summer of 1980".
USA Today also reported on June 3, 2008, in an article by AP National writer Sharon Cohen, that
After high school, Obama attended Occidental College in Los Angeles and had a varied group of friends, including Vinai Thummalapally, a native of India. They became roommates in the summer of 1980 when Obama, still a teen, was already plotting his life's journey.
"I want to get into public service," he recalls Obama saying. "I want to write and help people who are disadvantaged." –USA Today, June 3, 2008
The following summer, 1981, Obama would visit Thummalapally's home town of Hyderabad, India, during an overseas trip that also ventured into Pakistan, where he reportedly spent three weeks in Karachi. It is not clear whether Thummalapally accompanied Obama during any segment of the trip to India and Pakistan.
During his time in Pakistan, Obama is said to have stayed with another former Occidental student, freshman roommate Muhammad Hasan Chandoo.
He also is reported to have visited his mother Stanly Ann Dunham and half-sister Maya Soetoro in Indonesia as well as his father Barack Obama Sr. in Kenya during the multination adventure. It is not clear who funded the overseas trip.
Former U.S. Navy officer and NSA contractor Wayne Madsen has suggested that Dunham and her husband, Indonesian Army employee Lolo Soetoro, may have been involved in CIA activities in Indonesia.
Obama and Thummalapally: Roommates "most part of the summer", "Ran together daily" in Los Angeles
Obama reportedly met Barbara Nichols-Roy and Vinai Thummalapally at the Occidental College library. A June 13th, 2009 wire report by The Indo-Asian News Service (IANS), states that Thummaloapally and his future wife Barbara "first met Obama in 1980 in the (Occidental) college library and became close friends, even attending the future president's wedding."
Vinnai Thummaloapally was present when Obama announced his candidacy in an Illinois speech, and was named to Obama's national finance committee during the 2008 campaign, and. Mr. and Mrs. Thummaloapally would go on to become "bundlers" for the Obama campaign, and were invited to attend his inauguration. Barbara became a full time worker for the campaign, according to the Sikkim Observer.
Ambassador Thummaloapally is also connected to the shady, secretly-negotiated 'Project Pelican' deal between UAE's Gulftainer and Port Canaveral. Ambassador Thummaloapally attended the grand opening ceremony yesterday at Gulftainer's first U.S. terminal according to a report from Space Coast Daily.
As a political backer who raised more than $ 100,000 for the Obama campaign, Thummalapally was one of the few desi "bundlers" (big time political donors) in the Obama camp at a time when most Indian moneybags were gravitating towards Hillary Clinton…In brief interviews during and after the presidential campaign, the Thummalapallys recalled to the local media how Barack Obama was a cool guy who drank a few beers, smoked a lot, partied till the wee hours of the morning, but would still crank out a paper due later in the day and get brilliant grades. "It was so typical that he could just go and type out this amazing paper and do well after having partied all night, having drinks, beer or whatever we do at college," Barbara Thummalapally said in one interview. "He will always be Barry to us…We can't believe that we'll be saying 'Mr. President.'"…As a political backer who raised more than $ 100,000 for the Obama campaign, Thummalapally was one of the few desi "bundlers" (big time political donors) in the Obama camp at a time when most Indian moneybags were gravitating towards Hillary Clinton. – Times of India, June 12, 2009
"Vinai and I met Barack about a month after we had both met. We were part of the same group, especially during my last year at Oxy's when Vinai and a friend roomed right above Barack and another close friend in an apartment complex near our college" – http://sikkimhermonites.org/main/global-news.htm (Website now Defunct)
According to an Associated Press article written by Adam Goldman and Robert Tanner, which appeared in the Seattle Times on May 15, 2008, two months earlier than the Chicago Sun-Times piece, Vinai Thummalapally knew Obama at Occidental College in Los Angeles, California, and lived with him during the summer of 1980. It is not clear whether or not Thummalapally was actually a student at Occidental. According to his State Department biography, Thummalapally studied at California State University, receiving B.S. in 1974 and completing post graduate studies there in 1980. It is not clear whether Thummalapally also studied later at Occidental, which would have been years after the completion of his B.S. at CSU.
"Thummalapally lived with Obama the summer of 1980. The two ran together daily, three miles in the early morning, often chatting about their dreams. Thummalapally wanted to start a business back home; Obama talked about helping people. " – Politico
The same day, May 15th, 2008 USAToday also published the Goldman/Tanner AP article accounting Obama's summer of 1980 whereabouts.
7 News Belize also reported on Obama's "college buddy" Thummalapally following his appointment to the position of United States Ambassador to Belize.
Obama: "I had to sign up for Selective Services when I graduated from high school"
Barack Obama graduated from Panahou High School, Hawaii in 1979. During a television interview and viewer question-and-answer session with Senator Obama, moderated by George Stephanopoulos on ABC on September 7, 2008, a question from a viewer named Brenda, in Marietta, Georgia, was posed to the candidate by Stephanopoulos:
Viewer Question: "Did you ever consider joining the armed forces to protect and serve our country? If not, why?"
Obama: "You know I actually did."
Stephanopoulas: "When?"
Obama: "You know, I had to sign up for Selective Services (sic) when I graduated from high school, and I was growing up in Hawaii, and I had friends whose parents were in the military. There were a lot of army, military bases there. And I actually always thought of the military as some, an enobling (sic), and you know, honorable, option. But keep in mind that when I graduated in 1979, the Vietnam War had come to an end. We weren't engaged in an active military conflict at that point.
Selective Service was reactivated by Jimmy Carter in July of 1980, over a year after Obama's 1979 high school graduation date. At the time of his graduation, neither Obama, who was only 17 at the time, nor any of his high school classmates, would have been required to register for the still inactive Selective Service program. The Selective Service registration requirement was reinstituted the following year, in 1980.
According to National Archive records, under Proclamation 4771, which was signed by President Jimmy Carter on July 2nd, 1980, men born in 1961 were to present themselves for registration between Monday July 28, 1980 and Saturday August 2nd, 1980.
Barack Obama's Selective Service Registration "SSS Form 1" card is stamped "Honolulu HI July 29th, 80". The numbers 1 and 9 are missing from the year on the stamp. The "No ID" box was checked, which suggests that Obama possibly did not bring any identification with him when registering.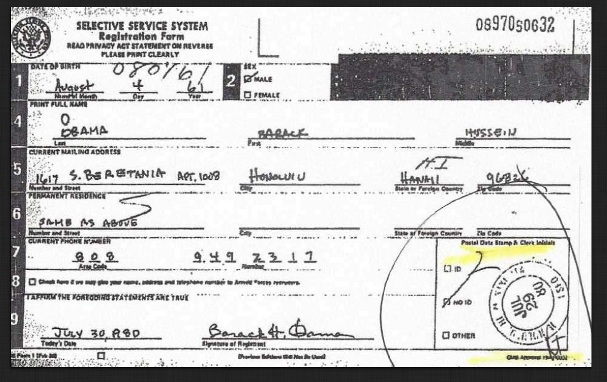 Summer 1980: California, Hawaii, or both?
Based on Selective Service records, Obama appears to have registered in person at a post office in Hawaii in August of 1980. That timeline dovetails with information provided to the Chicago Sun-Times by the Obama campaign in 2008:.
Lynn Sweet of the Chicago Sun-Times wrote in an article dated July 20, 2008:
"Here's what we know for the first time, with information passed on from the Obama campaign in response to my inquiries: As a college student at Occidental in Southern California, Obama returned home to Hawaii the summer after freshman year to sell island trinkets in a gift shop. Obama also had a summertime job at a deli counter in Hawaii — making sandwiches." Obama's freshman year at Occidental College was the 1979-80 academic year. – Chicago Sun-Times via Democratic Underground
According to a Politifact compendium of Obama's lifetime job history, the names of the deli and gift shop are "unknown":
Date unknown — deli counter clerk, business name unknown — Honolulu — Obama had a summer job at a deli counter in Hawaii, making sandwiches, his spokesman said during the presidential campaign.
1980 — gift shop sales clerk, business name unknown — Honolulu — Obama worked at a gift shop in Hawaii selling island souvenirs the summer after his freshman year at Occidental College in California.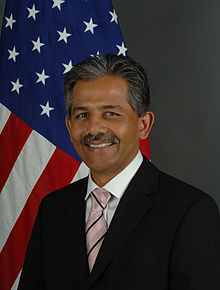 However, the Obama Campaign story appears to conflict with accounts given by Vinai Thummalapally, the current U.S. Ambassador to Belize.
Although the Times of India stated that Obama and Thummaloapally were roommates during the summer of 1979, that information appears to be erroneous, considering that Obama had just graduated from high school and not yet enrolled at Occidental.
Obama reportedly lived in Haines Residence Hall at Occidental in 1979. The Seattle Times reported that Obama had two roommates his freshman year: Paul Carpenter, and Imad Husain, a Pakistani, who the 2008 article described as a banker in Boston. Haines features single, double and triple rooms, so it is unclear if Obama lived with Carpenter and Husain at the same time or switched roommates sometime during the 1979-1980 academic year. Obama's dorm room was in the basement of Haines. Off campus students often congregated during the day around the couch in the basement of Haines, next to Obama's room. More information about Obama's college living arrangements can be found from a now-scrubbed article from the Greensboro Record, archived at Before It's News.
According to a February 9, 2008 New York Times profile of Obama's college years, which included the recollections of John Boyer, a former student who lived across the hall from Obama,
"In his freshman year at Occidental, Mr. Obama and his dormitory mates would gather around a couch in the hallway of their floor while stereos blasted songs by bands like the Rolling Stones, Led Zeppelin, the B-52's and the Flying Lizards. The conversations revolved around topics like the Soviet Union's invasion of Afghanistan, President Jimmy Carter's proposed revival of draft registration and the energy crisis." – New York Times, February 9, 2008
Clearly, Obama could not have registered for the draft immediately following his graduation from Panahou High School, Hawaii in 1979, as he suggested during his interview with George Stephanopoulas. However, by the time he was enrolled in his freshman year at Occidental, the national conversation about reactivating selective service registration would have been underway. If the account provided by the New York Times is accurate, Obama was aware that a reactivation of Selective Service in the future was indeed a possibility.
According to an account (published in American Thinker) by form Occidental student and political scientist John Drew, PhD, in December of 1980, over Christmas break, Obama spoke of Marxisim and "when the revolution comes". "There's going to be a revolution," Obama said, according to Drew. (emphasis added)
Yet only four months earlier he reportedly registered for Selective Service in Hawaii, while the Cold War was still front and center to U.S. foreign policy and military objectives.
If Obama was roommates with Thummalapally during the summer of 1980, Obama probably moved off campus at the end of the academic year, which would have been early summer of 1980.
The Times Of India reports that Thummalapally lived with Obama for "most part of the summer in 1980". Did Obama fly back to Honolulu to register for Selective Service? If he spent "most part" of the summer in L.A., and not at a gift shop in Hawaii, would he have returned to Hawaii for just a couple of weeks, and gotten a job or even less probably, two jobs, and registered for Selective Service, before quickly returning to Occidental to start fall classes?
The Mysterious Beach Photo
According to his State Department biography, Vinai Thummalapally received his B.S. in Mechanical Engineering from California State University in 1977 and completed post graduate Business Administration courses at California State University in 1980.
According to an interview in the Colorado Springs Gazette, Barbara and Vinai Thummalapally met Obama in 1979.
"She has pictures of her on the beach with Obama when they met up in Hawaii on a summer break from college." –Colorado Springs Gazette
Just one of the latest U.S. ambassadors to be appointed despite having no state department experience

Ambassador Thummalapally is hardly the first campaign bundler to be awarded an Ambassadorship, despite having zero State Department experience
Obama also reportedly lived off campus his sophomore year (1980-81) with Hasan Shandu. According to Dr. John C. Drew, during an audio interview by Scott Baker and Liz Stephans of the B-Cast.
Facebook Comments
comments