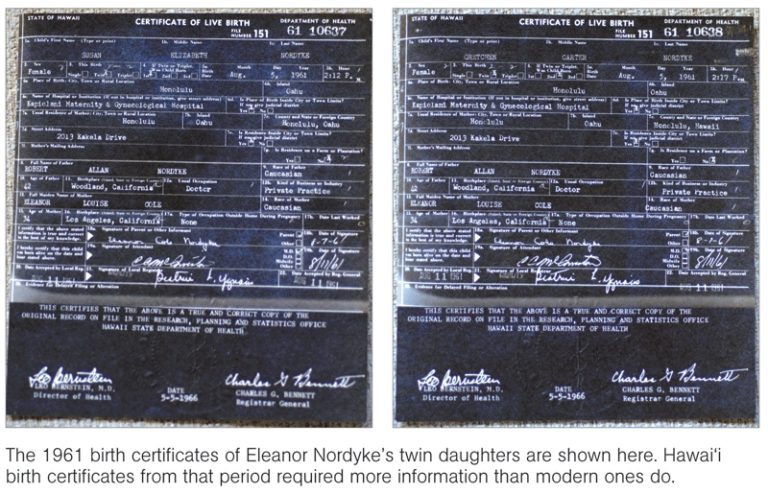 Reading Time:
5
minutes
Eleanor Nordyke: The demographer who claimed to recall the moment a President was born
Nordyke studied at the University of California Berkeley before receiving a master of public health degree in population and family planning from the University of Hawaii.
Nordyke embarked on her career as a Hawaii population specialist and research fellow with the East-West Center Population Institute in 1969 according to an official biography, although the East-West Population Center was not inaugurated until 1970.
The Honolulu Advertiser in 2009 published photostatic images of the Nordyke twins' alleged Hawaii "Certificates of Live Birth."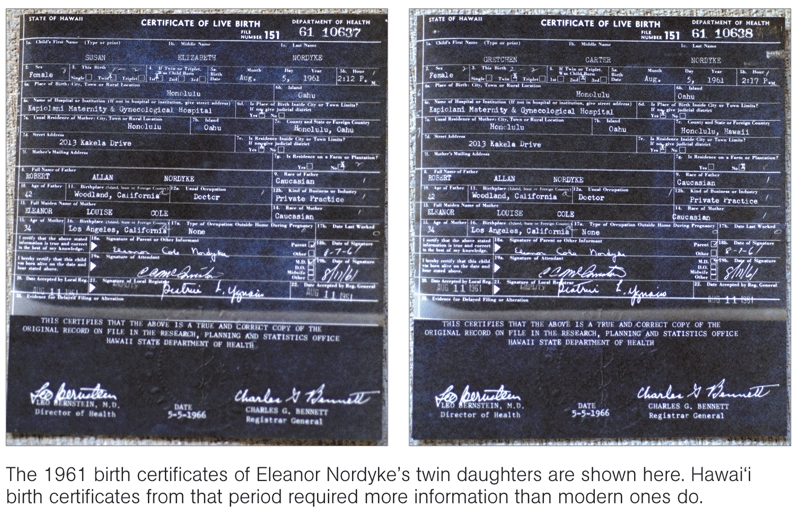 Dr. Jerome Corsi, author of "Where's the Birth Certificate? The Case that Barack Obama is not Eligible to be President," published an article at WND highlighting a numerical discrepancy visible in the images of the Nordyke "Certificates of Live Birth" which were published by the Honolulu Advertiser.
"A close examination of the birth certificates issued by Kapi'olani to the Nordyke twins shows the registration number precedes the number given Obama, even though the future president was born a day earlier" Dr. Corsi noted.
Nordyke and Robert W. Gardner coauthored a demographics paper at the East-West Population Institute in 1974.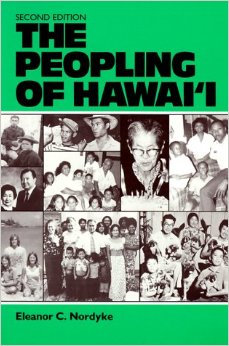 Nordyke wrote a controversial book, "The Peopling of Hawaii", published for the East-West Center in 1977. She railed against the effects that tourism and overpopulation were having on Hawaii's environment. The University of Hawai'i Press released a second edition in 1989.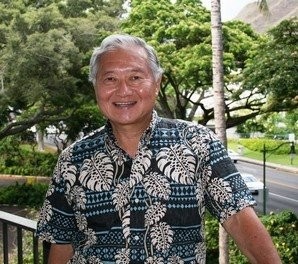 Nordyke also founded Planned Parenthood of Hawaii in the 1970s. This biographic detail aligns Nordyke's value system with eugenics research, the unofficial mission of the East-West Population Institute.
Bill Gates once told Bill Moyers "My dad was head of Planned Parenthood."
The Bill & Melinda Gates Foundation, through the Johns Hopkins University Bloomberg School of Public Health, awarded the East-West Center with $423,975 in 2013 to carry out demographic studies in Africa.
East-West Center possibly linked to CIA
Not only is Nordyke connected to Dr. Onaka, but Dr. Onaka's former career with the US State Department/USAID which entailed foreign travel assignments, extensive contact with foreign government officials, meetings with representatives of supranational organizations such as the UN and WHO, and management of census projects operating amid the countryside and villages of multiple foreign nations, fits the profile of an individual who conceivably could have been a CIA officer operating under official cover.
According to Frank Scotton, an alumnus of American University's College of International Relations and a former recipient of an East-West Center University of Hawaii graduate assistantship, the East-West Center was sponsored by the CIA.
"It was a cover for a training program in which Southeast Asians were brought to Hawaii and trained to go back to Vietnam, Cambodia, and Laos to create agent nets." Scotton is quoted as saying in the book "The Phoenix Progam", by Douglas Valentine.
Scotton became a United States Information Service (USIS) officer and became deeply involved in the CIA's Phoenix Program, a counter-insurgency program during the Vietnam War. According the book's appendix, USAID personnel advised Vietnam National Police on behalf of the State Department.
Former US Navy Lieutenant and NSA contractor Wayne Madsen has written extensively about Ann Dunham Soetoro, who worked in remote villages in Indonesia, theorizing that she used a number of CIA non-officials and official covers, including positions at USAID, a posting as a Ford Foundation officer, and her fellowship at the East-West Center. This theory remains difficult to prove without access to classified CIA personnel records which routinely remain top secret even after death to protect the larger network of officers and assets.
"The time period that President Obama's mother, Stanley Ann Dunham Soetoro/Sutoro, worked for various Indonesian and Pakistani operations associated with the US Agency for International Development (USAID) was during a time frame when USAID was composed almost entirely of CIA official and non-official cover agents who worked throughout Indonesia and Southeast and South Asia."
The East-West Center maintains close ties to the intelligence community. It was reported in the Molokai Advertiser-News on February 27, 2010 that faculty members of the East-West Center co-hosted a two-day symposium on national security billed as a "discussion on the role of language and contemporary issues in Asia and in U.S. security issues with networking sessions for students to interact with Intelligence Community personnel and meet with potential employers."
Dr. Onaka's connection to the woman who claimed to have remembered President Obama's birth is a statistical near-impossibility which points to a cover-up at the Hawaii Department of Health. Dr. Onaka's connection to fellow-researcher Nordyke combined with a professional profile that suggests that he may have worked for the CIA opens a window of plausibility that a coup d'etat overthrow of the Office of the President has been conducted by, or at a minimum protected by, individuals connected to the CIA.
Although there is no definitive evidence that Dr. Onaka worked for the CIA or that POPLAB was a CIA operation, it is noted that the CIA actively hires demographers as political analysts, and that the CIA has used national census operations in Southeast Asia to collect counterinsurgency intelligence.
During the Vietnam War, the CIA's Phoenix Project was involved in "census grievance" operations, during which intelligence was collected. The census grievance operation "consisted of a formal census of the heads of households about local social, economic, and security conditions" according to "The Other Warrior: Interviews with Andre Sauvageot," a faculty development grant final report by Jeff Wood, Associate Professor of History at Arkansas Tech University.
Sam Suharto, who the CIA helped install in power in Indonesia, visited POPLAB, as did officials from Indonesia's Central Bureau of Statistics.
Wayne Madsen believes that Stanley Ann Dunham and Lolo Soetoro provided CIA assistance to the Suharto regime.
The move by Ann Dunham, Lolo Soetoro and young Barack Obama to Indonesia came shortly after the Indonesian killings of 1965-66, an anti-communist purge that left over half a million people dead, following a failed military coup on October 1, 1965, the downfall of President Sukarno and the installation of his replacement President Suharto, one of Sukarno's generals.
It remains unclear if USAID provided cover for CIA activities in Indonesia.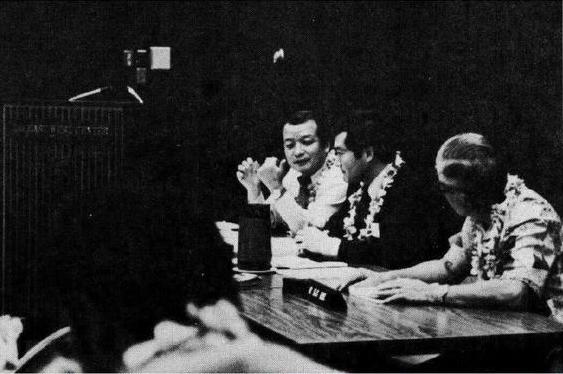 1776 CHANNEL EXCLUSIVE FEATURE: REVIEW THE EVIDENCE
East-West Populations Institute: Summary Report of the Seventh Summer Seminar In Population 14 June – 16 July 1976
SummaryReportOfTheSeventhSummerSeminarInPopulation1976pdfa

Dr. Alvin Onaka's involvement with USAID Kenya project: Evaluation of DUALabs Project – African Data for Decision Making March 17-19, 1975

PDAAM993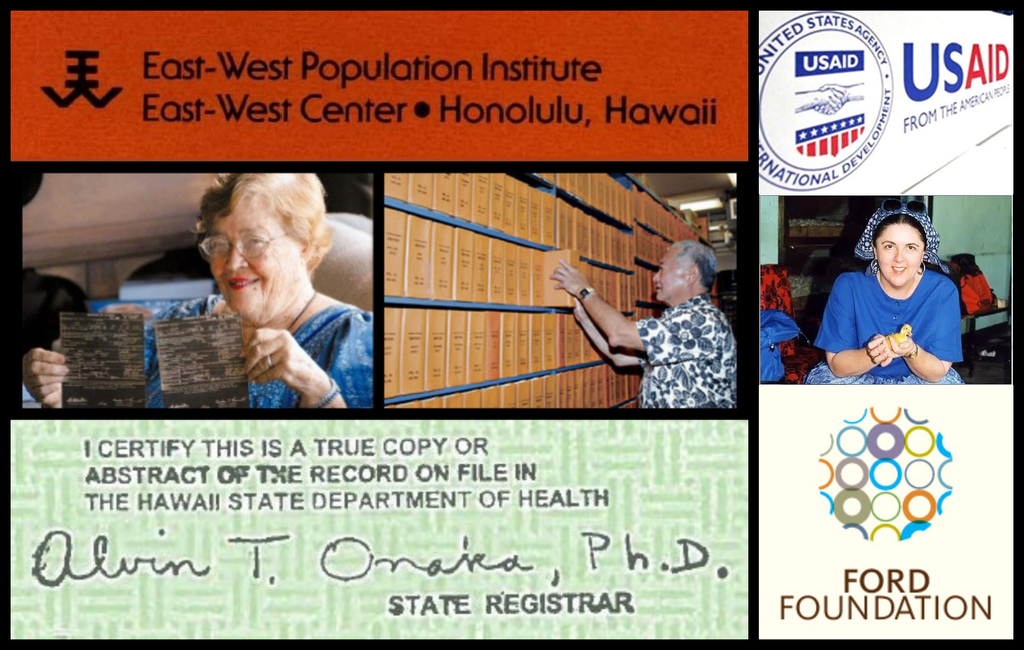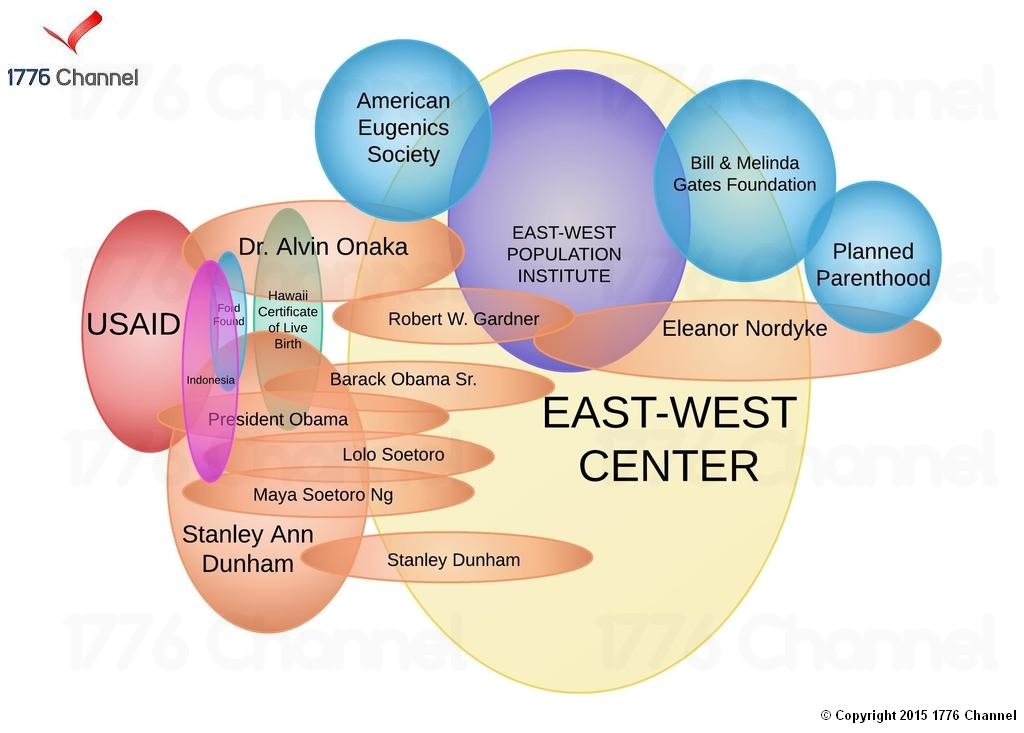 Facebook Comments
comments