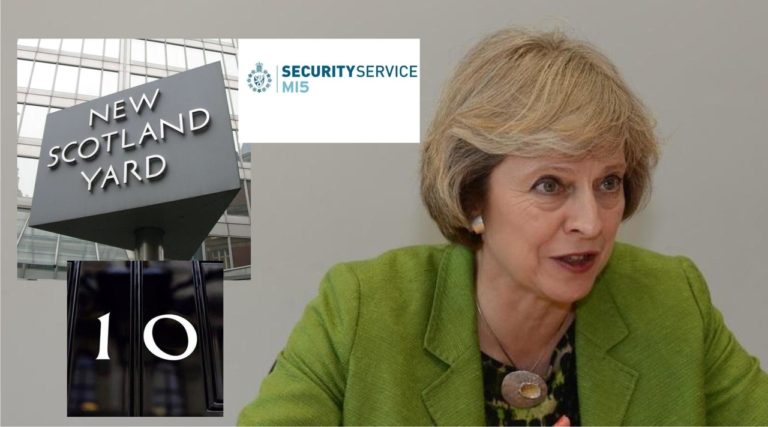 Reading Time:
2
minutes
An Islamic terror plot to assassinate British Prime Minister Theresa May has been foiled, Sky News is reporting.
The operation allegedly involved targeting the Prime Minister's office at 10 Downing Street with suicide bombers.
"Two men have been charged with terror offences and are due to appear in Westminster magistrates' court" "The Telegraph" said.
In a press release, Metropolitan Police named the suspects as Naa'imur Zakariyah Rahman, age 20, and Mohammed Aqib Imran, age 21.
Sky News is also reporting that heavy security is now protecting the premises.
Britain has been wracked by a wave of terror plots, with the "Daily Mail" reporting that this was "the ninth foiled plot since March," citing British counter-terrorism officials. MI5 chief Andrew Parker stated that the threat of terror attacks are at 'highest tempo' he has witnessed over the course of his 34 years of service, according the the "Daily Mail" report.
The suspects intended to use relatively unsophisticated weapons – knives, suicide vests, and an explosive device in a bag.
The risk of Islamic terror attacks against Western targets remains especially high following President Donald Trump's announcement that the United States plans to recognize Jerusalem as the capital of Israel.
Even as news of the plot spread across the globe, London Mayor Sadiq Khan's official Twitter account remained silent, with no mention made of the plot to kill Britain's highest ranking official on the increasingly bloody streets of London.l
Other European nations are fighting against increasingly common Islamic terror plots, some of which have killed large numbers of people. As reported by 1776 Channel in 2016, 84 people were killed and over 100 were wounded when an Islamic terrorist plowed a truck into pedestrians in the French Riviera city of Nice.
London has also faced terror attacks involving vehicles, as well as explosive devices, knives, and acid. An Islamic terror bombing attack against the London transit system on July 7, 2005, commonly referred to at the 7/7 attack, killed 52 people and wounded nearly 800 more.
Facebook Comments
comments