Reading Time:
2
minutes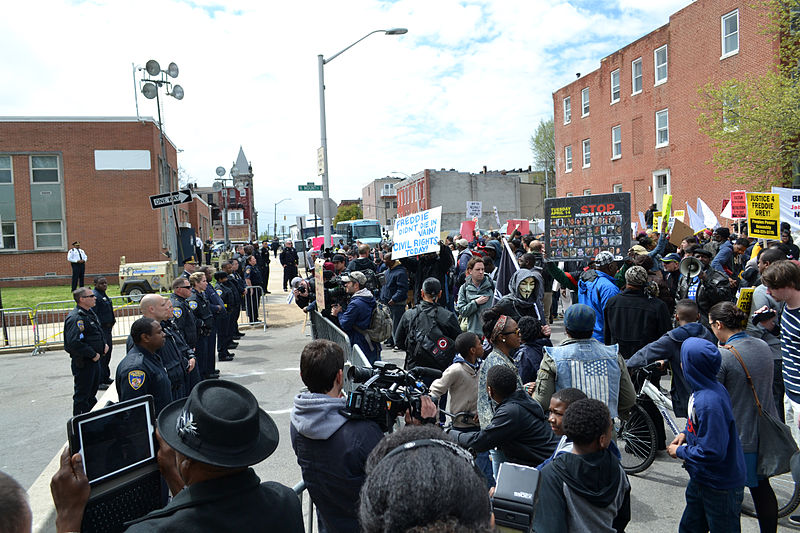 By Alan Jones | April 28, 2015
(1776 Channel) Baltimore, MD was paralyzed by violent riots, looting and arson Monday evening following the funeral of Freddie Gray, a 25-year-old African American man who died a week after his spinal cord was almost entirely severed while in the custody of Baltimore police.
The violence began shortly after Baltimore public schools let students out for the day.
News helicopters captured live images of a large crowd in front of a CVS/pharmacy store, freely moving in and out of the business with what appeared to be boxes of looted merchandise. Later in the afternoon looters were observed inside an Ace Cash Express check cashing business.
Baltimore police assembled outside the riot area for most of the afternoon and into the evening, reinforcing their ranks while the violence and looting escalated. At least one police cruiser was destroyed.
Police stated that fifteen police officers were injured and two were still hospitalized Monday night according to a USA TODAY report.
Maryland Governor Larry Hogan signed an executive order declaring a state of emergency and activating the national guard.
EO-4-27-2015

A three-alarm fire destroyed the Mary Harvin Transformation Center according to local NBC affiliate WBAL.
A car which appeared to be stolen was erratically driven through burning debris in the riot area, becaming engulfed in flames after the occupants escaped.
Baltimore Mayor Stephanie Rawlings-Blake announced a 10 p.m. to 5 a.m. curfew beginning Tuesday, but it remains unclear why officials did not activate the curfew sooner.
A Maryland National Guard general stated that his troops will be equipped with up-armored Humvees and weapons reports the Daily Caller.
Facebook Comments
comments